Double Action Power Press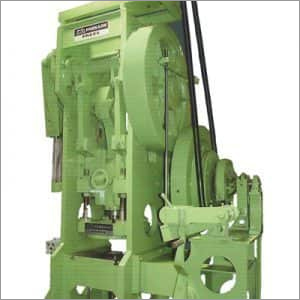 Double Action Power Press
Price And Quantity
Piece/Pieces

50,00,000 INR
Product Description
Double Action Power Press offered by us is widely utilized for metal fabrication purpose and has ability to produce different kinds of simple & complex shapes with high precision. It has been equipped with multiple clutch plate system and can bear heavy load with ease. This power press is completely reliable in nature and assures user-friendly operation. It is known to have tough structural configuration and assure consistent performance throughout its life. Double Action Power Press is capable of handling different sizes of workpieces with efficient performance.
Features:
Good energy efficiency
High durability

Perfect for extreme working conditions
Product Description
PRAKASH Press has eight point square gibbing slide arrangements ensuring accurate parallelism and perpendicular movement to produce quality and accurate drawn component. Non-ferrous adjustable liners are provided to ensure closer gib clearance and thereby precision.
PRAKASH Press Frames are machined on Elgamill with all the slide guideway and BED MACHINING after fabrication in one single setting. The bed and guideways are machined with geometrical accuracies conforming to ISI 4593-1968 i.e., 0.1mm per meter.
Design Features: Toggles operation the blank holding and relieve the crankshaft of the blank holding strain which is then carried directly to the press frame. Thus, nearly all the crankshaft power comes to bear on the drawing operation. The Toggle linkage provides 90 degree of blankholder dwell during which the pressure on the blank is steady. Four independent adjustments, one at each corner of the blankholder permits individual corner adjustment of blankholder pressure.
No more broken toggle shafts. The crankshaft & toggle shaft are one piece solid made from tested forged steel. The toggle shafts shape and side is designed for heavier load and longer life as compared to conventional toggle shafts with more maintenance & breakage due to welding or key ways.
PRAKASH Presses are with multiple clutch plates system both in mechanical & pneumatic clutch with wear adjustment for taking heavy torque and maintenance free service for a longer period
PRAKASH PRESSES side slide and connecting rod are steel casted grade 23-45, resistant to breaking and bending at high pressure thus maintaining the press life. The conventional C.I. Casting slides cracks at higher load whereas the fabricated or M.S. profile slide having low carbon tends to bend at high pressure, misaligning the whole press.
All pins, shafts, screws are made from alloy carbon steel & hardened, hard chromed, grinded within close tolerances for 100% interchangeability.
From phosphor bronze to gunmetal to aluminium bronze or even oil less bushes and guides, when it comes to metallurgy PARKASH PRESSES are highly durable.
Technical Specification
| | | | | | | | | | |
| --- | --- | --- | --- | --- | --- | --- | --- | --- | --- |
| PARKASH Press Number | 4 | 41/2 | 5A | 5B | 51/2 | 6A | 6B | 61/2 | 7B |
| Capacity (tons) | 75 | 100 | 125 | 150 | 200 | 250 | 275 | 300 | 500 |
| Largest Blank Dia. Admitted | 16″ | 20″ | 24″ | 26″ | 28″ | 32″ | 32″ | 36″ | 48″ |
| Deepest Draw | 5″ | 7″ | 8″ | 9″ | 10.5″ | 11″ | 12.5″ | 12.5″ | 18″ |
| Largest Dia. Punch Admitted | 15″ | 18″ | 18″ | 22″ | 24″ | 26″ | 26″ | 28″ | 36″ |
| Strokes / minute | 12 | 10 | 10 | 9 | 8 | 7 | 7 | 7 | 7 |
| Motor hp | 10 | 15 | 20 | 25 | 30 | 35 | 40 | 50 | 75 |
| Overall Height (with motor) | 10′ | 11′ | 12′ | 13′ | 14′ | 15′ | 16′ | 16'6″ | 17'6″ |
| Weight Approx (kg) | 5500 | 7500 | 9500 | 12500 | 14500 | 16500 | 18500 | 21500 | 28000 |
Contact Us
PLOT NO 3, SECTOR 6, IMT MANESAR,, Gurugram, Haryana, 122050, India
Phone :+918045478574