Servo Feeder Press Machine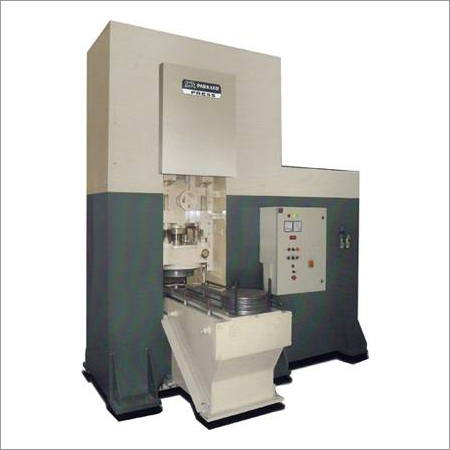 Servo Feeder Press Machine
Price And Quantity
Piece/Pieces

50,00,000 INR
Product Description
Servo Feeder Press Machine is a metal fabricating structure that has been equipped with main frame, auto blank feeder, and link motion drive. It is known to have ergonomic structural configuration with ability to reduce labor cost. This machine is completely automatic in nature and assures user-friendly operation. It is provided with superior quality advanced electrical control panel which comprises protection devices for fault current & over voltage conditions. Servo Feeder Press Machine has been equipped with recirculating lubrication system with maintenance-free bushes & bearings.
Features:
Low die setting time High production rate Equipped with oil dip gears
Improves metal flow times by keeping material in the work portion by nearly 300% longer period.
Slower velocity in the tool improves part finish.
Faster production speeds without increased forming speed thanks to faster slide return rate.
Lower impact, shock, noise and vibration improves die, press and other equipment life.
| | | | | | |
| --- | --- | --- | --- | --- | --- |
| PRAKASH Press Number | 4 1/2 | 5B | 51/2 | 6B | 7B |
| Capacity Total. (Tons) | 100 | 150 | 200 | 300 | 400 |
| Capacity Plunger (Punch) (1/4above bottom) Tons. | 65 | 100 | 125 | 200 | 275 |
| Capacity blank holder (1/8above bottom) Tons. | 35 | 50 | 75 | 100 | 125 |
| Inch | Inch | Inch | Inch | Inch | |
| Largest Blank Admitted | 20 | 26 | 28 | 32 | 42 |
| Deepest Draw | 7 | 9 | 10.5 | 12 | 15 |
| Maximum Stroke of (Pressure Plate) | 8 | 11 | 12 | 14 | 17 |
| Max Stroke of (Punch) | 14 | 18 | 21 | 24 | 30 |
| Bed to Pressure plate adjustment up-stroke up | 21 | 25 | 28 | 33 | 42 |
| Bed to punch Holder adjustment up-stroke up | 24 | 30 | 32 | 40 | 60 |
| Bed between frames | 26 | 30 | 32 | 36 | 48 |
| Bed font to back | 36 | 42 | 44 | 51 | 60 |
| Hole dia. Through bed | 12 | 15 | 15 | 18 | 24 |
| Largest dia. Punch admitted | 18 | 22 | 24 | 27 | 32 |
| Adjustment to Pressure-Plate | 6 | 7 | 8 | 9 | 12 |
| Adjustment to Punch-Holder | 6 | 7 | 8 | 9 | 12 |
| Strokes per minute (variable) | 10 | 9 | 8 | 7 | 6 |
| Motor H.P. Required (960 rpm) | 15 | 25 | 30 | 40 | 50 |
| Overall Height | 120 | 140 | 150 | 170 | 190 |
| Overall Width | 85 | 95 | 105 | 125 | 150 |
| Overall Depth | 55 | 65 | 70 | 80 | 95 |
| Weight Approximate Kg. | 8000 | 13500 | 16000 | 21500 | 32000 |
Contact Us
PLOT NO 3, SECTOR 6, IMT MANESAR,, Gurugram, Haryana, 122050, India
Phone :+918045478574